A good friend and I seem to have made it our lives work to only be good at 1 thing.
Eating, specifically eating pork ribs.
We have eaten ribs in London, Edinburgh, Glasgow, New Jersey, New York, Orlando and countless places in Sydney and other parts of Australia.
Recently we made the potentially disastrous decision to attempt to cook our own ribs.
Both of us have eaten ribs cooked at home before but never have they been anywhere near as good as the ones you get from a decent restaurant. More often than not there is little to no meat and what meat is on the bone is tough and chewy.

Our mission was to change this.
With a little bit of help from Google and (it pains me to say this) Masterchef we felt we had a handle on the best way to get a good result.
After buying some nice looking ribs from the local butcher I set about making a dry rub. Thanks to Google I found the below recipe which sounded decent.
Memphis Style Rib Rub
4 teaspoons paprika
2 teaspoons salt
2 teaspoons onion powder
2 teaspoons fresh ground black pepper
1 teaspoons cayenne
Mix ingredients together. Store in an airtight container. Spread evenly on prepared ribs that have been patted dry and let sit until the rub appears moist.
To this I added about 3 heaped teaspoons of brown sugar.
This made enough for a generous amount on 2 full racks of baby back pork ribs. I doubled it to get enough for the 3 racks we had to cook.
The end result

This was after sitting overnight in the container.
Our chosen method for cooked was a trusty old Webber Kettle. So while the coals were heating up

We set about getting the ribs ready for the grill.
Cover with generous amounts of your favourite BBQ sauce (or in our case sauces)

And take them out to the now ready grill.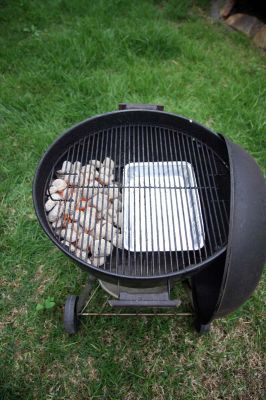 Place the ribs on the cool side of the grill

Cover and let cook at a low temperature for several hours.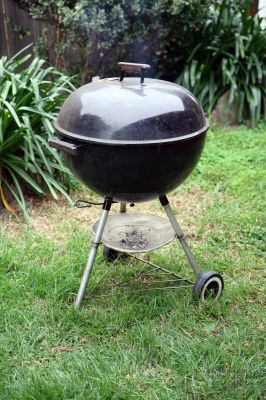 Keep the dog away from the BBQ!

Check back on them periodically and baste with sauce as desired.

Served with an ice cold beer and your choice of sides (chips in our case)

The end result was in both our opinions, restaurant quality ribs. They were easily ripped apart with your hands and the meat was exceptionally tender.
Well worth the effort and something I will be trying again in the not too distant future.
No comments